Professional Wedding DJ
No More AV Worries
About
Let a professional handle the AV aspects of your wedding, such as your March-in songs & Highlights videos.
Someone who can play the right songs (English, Chinese, Dialect songs, and also something for the seniors) to entertain your guests of varying ages.
Engage SG Wedding DJ and you are guaranteed ZERO AV worries.
He lets you know exactly what he needs from you in advance, and runs the show for you on your actual day seamlessly.
Sit back, relax, and enjoy.
To top it off with a dash of social interaction, he has created an interactive QR Code which your guests can have fun with during their meals – without leaving their seat. Who says you can't have interaction and fun at weddings now? 😉
Watch the video below to find out more about this unique wedding entertainment!
Latest Reviews
Updated 1 May 2021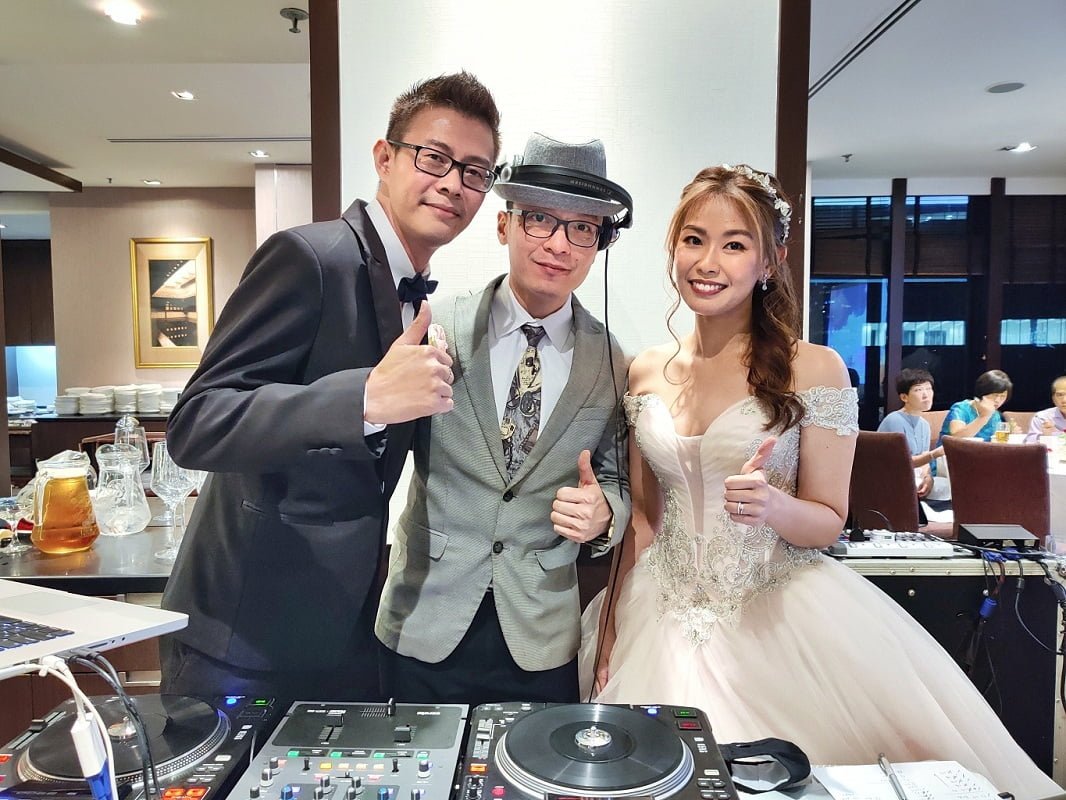 Ronnie & Eveline
We came across Ti Eu in Facebook while we were searching for some fun interesting entertainment for our guests and his interactive "Live" posting app caught our eyes.
Ti Eu definitely received the highest praise from all of my guests and myself for bringing up the ambiance by spinning awesome music thru out the banquet and the "Live" posting of well wishes was one of the highlight.
Ti Eu was extremely professional. He would specially go down to the location to ensure all the AV stuffs he required are available and conduct a full AV check prior to our wedding day.
Communication was great, he would always keep us updated from time to time. This is one of the most important factor. Every bride can agree, that planning a wedding is a very time consuming and stressful ordeal, hence we need someone who we can trust.
He had such a passion for his work that it translated to pure excellence in his work!
Highly recommended!
Jeremy & Lindsey
We highly recommend Ti Eu for his services, from coordinating of our AV to entertaining our guests throughout the entire event.
The interactive app for well wishes is amazing too whereby our guests are able to post & share their well wishes live on screen. We were also provided with a nicely done up pdf which contains all our guests' well wishes as a momento. This feature is really helpful especially with the current covid situation where the use of physical guest book is not recommended.
Aside to Ti Eu, thanks so much for taking your time to conduct the pre AV check, ensuring everything runs smoothly for our big day and also in helping us with the edits for our march in songs. With your help, we totally don't have to stress over any AV related matters (e.g march-in songs and wedding playlists)!
Daniel & Miao Ling
First and foremost, taking care of the entertainment side for a wedding banquet is not easy and we would like to thank Ti Eu for his amazing AV services during our wedding dinner. We extremely grateful that he accepted this last minute job request a week before our big day. This decision was made because we thought that playing songs from our Spotify playlist would be dull, plain for our guests and we wanted more for our guests. We never regretted upon making this decision at all.
We truly appreciate how Ti Eu liaise with us, closing all the loose ends on our side and taking care basically all the AV needs during our wedding dinner, ensuring me and my spouse had a peace of mind concentrating on what we should do that night. He took initiative in liaising with my floor manager to coordinate the timings and other important stuff on that night, and also liaising with my videographer to get the morning highlights for the second march-in. All my spouse and I did was to send him our pre-wedding photoshoot photos, childhood photos, childhood montage & march-in songs. He even added some songs/MVs that my spouse requested at the very last minute.
On top of that, he also went down to the banquet venue a few days before to conduct pre-checks on the AV system, ensuring the sound system is ok, the visuals are being projected nicely on the screen and etc.
We received positive, excellent feedback from our guests that night, so all credit must go to Ti Eu for doing a really great job for us! The interactive app that enabled our guests to send us wedding wishes as well as uploading their photos taken during dinner was really fascinating too.
In short, Ti Eu has shown his professionalism and enthusiasm towards his work. I would strongly recommend his services to my friends and other couples who are planning to hold wedding banquet during COVID times.
Thank you once again Ti Eu!
Full Review List
Click here for full review list.
Fun for Guests
Who doesn't like to have some fun during a wedding?
Making use of DJ Funky T's interactive mobile app as shown in the video above, your guests can easily post selfies & well-wishes on the projector screens, in real time!
Will I get a copy of the dedications that my guests have posted?
Yes, a consolidated copy of all the dedications in PDF format will be emailed to you within 3 working days after your wedding.
Here is an example of what it looks like (download full PDF here):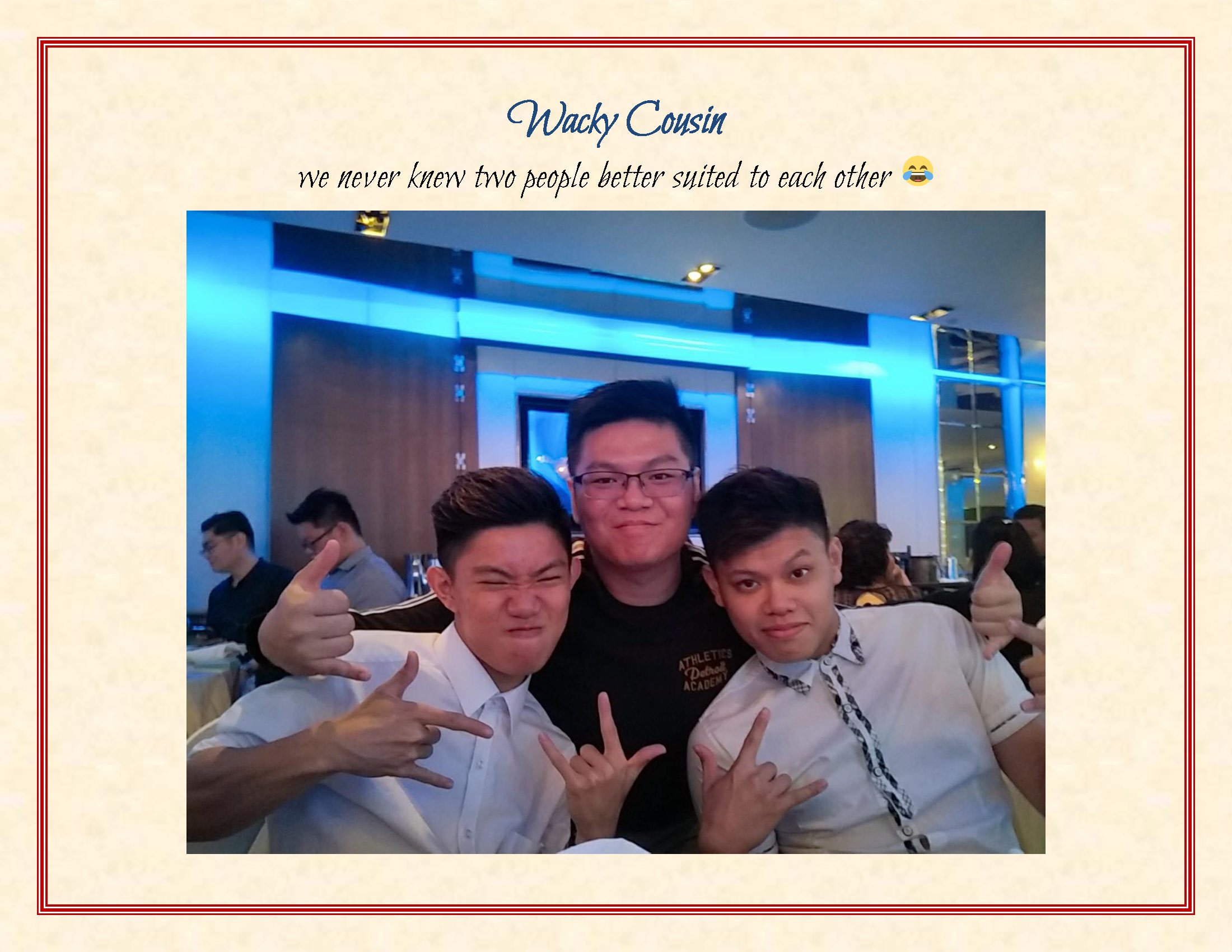 This fantastic e-guestbook will definitely bring you warm memories of your wedding in the many years to come!
Photo Slideshow
Too lazy to make a photo montage video?
DJ Funky T presents your photos in a more innovative way – by sliding them over his MTVs throughout your wedding!
Simply provide your wedding photos, family & friends photos and couple photos in JPG format, and he will run the images throughout your banquet.
What sequence will my photos be displayed?
The typical sequence is as follows:
Before 1st March-in:
Pre-Wedding Shoot (loop)

When Meals Start:
1) Childhood Photos
2) Friends & Family Photos
3) Couple Photos
4) Pre-Wedding Shoot (if there is extra time)
Music Genres
DJ Funky T plays a wide range of music to cater to guests of all ages.
Music for All Ages
DJ Funky T plays a mixture of English, Chinese and even Dialect songs as background music during the entire banquet.
What he plays depends on age groups and profiles of your guests, and he will adjust his music accordingly based on his experience and the current mood. He will also drop a few oldies for the mature guests, and one or 2 K-pop songs for the young ones. It all depends on the atmosphere and also the facial feedback from your guests.
Special Video Remixes to Conclude The Banquet
What is a wedding without some vibes near the end? Once dessert is served and guests are getting ready to leave, DJ Funky T will drop some of his signature video remixes to provide an uptempo mood which will leave your guests with wonderful & unforgettable memories as your banquet is concluded.
Frequently Asked Questions
Contact
For enquiries on my promotions and packages, please fill up the following form or Whatsapp me:
SG Wedding DJ