Testimonials
Updated: 1 May 2023
Source: www.facebook.com/sgweddingdj/reviews
Desmond & Celeste
So thankful to have found Ti Eu to be our wedding DJ! It was a last minute decision as none of our friends wanted to take up this huge responsibility
but we never looked back since then. Ti Eu has been a great help in terms of giving advice on our PM program flow, offering his expertise in the types of music to play, giving us lotsss of assurances along the way and been really very patient with us.
He's also very responsive whenever we reached out to him. We just provided him with what he needed and he did the job. On top of these, our emcee liaised directly with him before and during our wedding so we did not have much to worry about. A plus point is that Ti Eu is a calm, composed, reliable individual whom maintains his professionalism even when under pressure. Will definitely recommend others to engage Ti Eu's DJ services!
Jian Ling & Gladys
We highly recommend engaging DJ Funky T as your deejay if you are still cracking your head thinking who is the best person to be your AV guy. He coordinates on behalf of us with our hotel for testing and all we have to do is just focus being groom and bride.
Very friendly and engaging person. If you need planning advice, he's always around to help. It's a fuss free process since the day we engage him till Actual day. Most of the time our conversation ends with "I have confident in you" and yup, not wrong at all. The e-wishes was great and my guest love it ! Not forgetting the choice of songs.
He manage to keep my guest from different age group entertain. It's just amazing ! Also It's really nice to receive the PDF file after so we can slowly read the wishes sent in by our guest during the dinner.Overall, everyone enjoyed and we love his service ! If you have the extra budget, go for it ! Won't regret.
Marcus & Chersy
Worth every cents you paid!!
Liaising with DJ Funky T from start to the event preparation itself is definitely a breeze! Feels like working with an old friend who is really enthusiastic for your big day. Always cheerful and fun in our conversations~
We can safely leave all the AV matters to him, and he will arrange to settle them himself. E.g. coming down few days before to do all the testing himself in the hotel, making sure everything's all good.
On the actual day, he combined a good mix of music genre that catered to all age group of our guests, where we had little kids dancing to "Baby shark" and elderly singing to the retro hit music. The e-message app is awesome as well! Our guests were having fun posting their well-wishes, and being displayed on the screen. Overall, all of us had a blast! Definitely a mood booster for our wedding!
We also received the compiled e-guest book the day after our wedding. So fast!
Once again, thank you so much for your help!
Justin & Irene
Ti Eu was extremely helpful throughout the whole wedding event. Most people think there is no need to hire a wedding dj because they can simply prepare a song list, and get a friend to manage it.
What they don't understand is that a wedding's music is not just about playing play. It is about reading the room, its people and dropping the right hits at the right time.
Ti eu did all this and more, going as far as to coordinate a series of surprise video materials with me for my wife.
Without him, my wedding would not have worked.
Yong Sheng & Yan Ting
Ti Eu and Herbert were very professional and helpful for our wedding lunch. Ti Eu took care of the audio and video aspects, e.g. playing the march-in songs, synchronizing with the banquet manager, playing background music with slideshow of our photos.
Herbert was the emcee who brought out a lively and fun atmosphere with his voice and lovely banter.
Ti Eu helped us edit the march-in songs to literally how we envisioned it. He also provided a QR code, which allows our guests to post their photos and well-wishes on screen. These posts were also compiled into a virtual guestbook and sent to us. The posting of photos is very easy, and doesn't need the user to download any app. These small details go to show the lengths that Ti Eu is willing to go to ensure a good wedding especially in this COVID situation, and makes Ti Eu the most outstanding wedding vendor we've seen. There was also frequent communication between us and Ti Eu, and he was reliable and patient.
Ti Eu was a huge saver for us, and we highly recommend him if you want someone who delivers high quality work. Herbert was great and very easy to work with. In the days leading to our wedding lunch, he also set up a Zoom call to clarify any doubts and explain the rough flow of his work. Even though my wife and I were outside the ballroom half the time (due to preparation for march-ins), we could still feel how he had worked up a lively atmosphere, from the audience's laughter and enthusiasm. Herbert was funny in his jokes, yet his jokes are never offensive.All in all, we couldn't have asked for a better wedding DJ and emcee.
Though they call themselves a DJ and emcee, they're literally the ones who help to run the entire show and keep the energy of the wedding up. This is all the more appreciated in this current COVID situation, where safe distancing has forced guests to sit far apart from each other, while other rules like no Yam Seng has dampened the atmosphere quite a bit. We highly recommend Ti Eu and Herbert if you want someone to help you hold a successful wedding!
Chin Pin & Jeanette
In 2019, I came across SG Wedding DJ at a wedding roadshow. I was intrigued by the concept and services he displayed to us during the roadshow, so I decided to sign up for his package. It was a pleasure working with Ti Eu because the services he gave saved me a lot of time and effort because all I had to do was provide him my photos and the tunes I wanted for marching in and he took care of the rest.
He also gave us a QR code so that our guests could give us their best wishes, and the e-book arrived pretty promptly. If someone is looking for similar services, I definitely recommend him.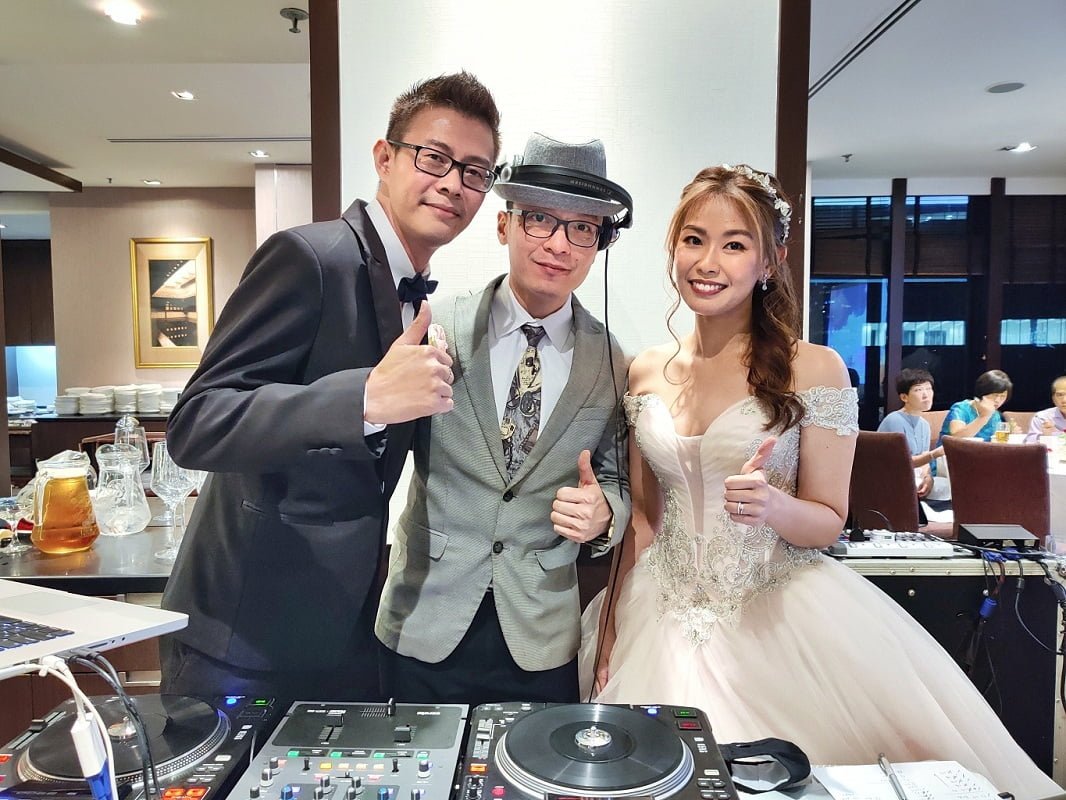 Ronnie & Eveline
We came across Ti Eu in Facebook while we were searching for some fun interesting entertainment for our guests and his interactive "Live" posting app caught our eyes.
Ti Eu definitely received the highest praise from all of my guests and myself for bringing up the ambiance by spinning awesome music thru out the banquet and the "Live" posting of well wishes was one of the highlight.
Ti Eu was extremely professional. He would specially go down to the location to ensure all the AV stuffs he required are available and conduct a full AV check prior to our wedding day.
Communication was great, he would always keep us updated from time to time. This is one of the most important factor. Every bride can agree, that planning a wedding is a very time consuming and stressful ordeal, hence we need someone who we can trust.
He had such a passion for his work that it translated to pure excellence in his work!
Highly recommended!
Roy & Katrina
Thank you so much for helping us during our wedding. Ti Eu and Herbert were very professional, responsible and helpful. Very nice people. Herbert was the emcee and was funny with his very lovely voice. Ti Eu took care of the audio, slideshow and we left it to him to do everything. We really like the e guestbook as well. Our guests really enjoyed the music and found our wedding to be very cool.
Ken & Angela
DJ Funky T really listened to our needs and made everything a reality at Ken & I's wedding. We were able to fully enjoy the wedding, knowing all the AV was well taken care of. Highly recommend!
Jeremy & Lindsey
We highly recommend Ti Eu for his services, from coordinating of our AV to entertaining our guests throughout the entire event.
The interactive app for well wishes is amazing too whereby our guests are able to post & share their well wishes live on screen. We were also provided with a nicely done up pdf which contains all our guests' well wishes as a momento. This feature is really helpful especially with the current covid situation where the use of physical guest book is not recommended.
Aside to Ti Eu, thanks so much for taking your time to conduct the pre AV check, ensuring everything runs smoothly for our big day and also in helping us with the edits for our march in songs. With your help, we totally don't have to stress over any AV related matters (e.g march-in songs and wedding playlists)!
Daniel & Miao Ling
First and foremost, taking care of the entertainment side for a wedding banquet is not easy and we would like to thank Ti Eu for his amazing AV services during our wedding dinner. We extremely grateful that he accepted this last minute job request a week before our big day. This decision was made because we thought that playing songs from our Spotify playlist would be dull, plain for our guests and we wanted more for our guests. We never regretted upon making this decision at all.
We truly appreciate how Ti Eu liaise with us, closing all the loose ends on our side and taking care basically all the AV needs during our wedding dinner, ensuring me and my spouse had a peace of mind concentrating on what we should do that night. He took initiative in liaising with my floor manager to coordinate the timings and other important stuff on that night, and also liaising with my videographer to get the morning highlights for the second march-in. All my spouse and I did was to send him our pre-wedding photoshoot photos, childhood photos, childhood montage & march-in songs. He even added some songs/MVs that my spouse requested at the very last minute.
On top of that, he also went down to the banquet venue a few days before to conduct pre-checks on the AV system, ensuring the sound system is ok, the visuals are being projected nicely on the screen and etc.
We received positive, excellent feedback from our guests that night, so all credit must go to Ti Eu for doing a really great job for us! The interactive app that enabled our guests to send us wedding wishes as well as uploading their photos taken during dinner was really fascinating too.
In short, Ti Eu has shown his professionalism and enthusiasm towards his work. I would strongly recommend his services to my friends and other couples who are planning to hold wedding banquet during COVID times.
Thank you once again Ti Eu!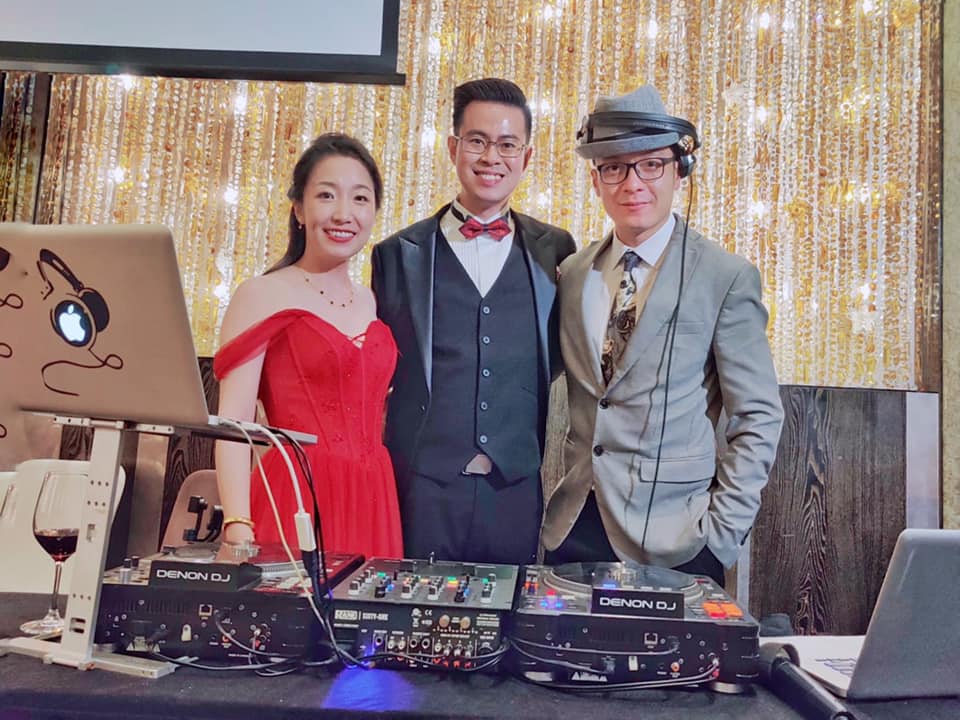 Kwan Hong & Lihui
I strongly recommend Ti Eu's service.
Taking care of AV system, including playing the videos and timing the March-in songs was already a huge relief to the brothers and sisters helping out at the wedding. What could be more awkward than encountering "technical difficulties" during marching in? Just leave to the professional to handle and worry free!
More importantly he would be playing pre-wedding photos, childhood photos and photos of friends throughout the wedding. Friends told me they had good time seeing the old photos and recalled happy times in the past, laughing at how much they have changed as well. And many feedback there wasn't a second of boring moment in the wedding. Thanks to Ti Eu!
On top of that, the well wishes submitted though the QR code system can be kept as good memory for a lifetime.
Not mentioning he was super helpful before wedding, giving advice of March in songs and videos, very prompt in replying as well!
In conclusion, highly recommended and guaranteed no regrets engaging him.
Subash & Yu Wen
Came across Funky's profile was he was highly recommended by the BTB forum. After engaging him, I can easily see why he's so highly recommended . Not only his tastes for music was catered to a crowd that has various age group and background – his interactive e-guest book was well loved by all my guests.
Being a bride is stressful, being a bride during pandemic is super stressful. Being a bride during pandemic while managing all the smallest details is just crazy.
Leave the entertainment to the pro – let's get Funky. (Pun intended ) P.S : do get his recommendation for emcee, you won't regret . They literally took away 60% of worries away about guest entertainment that I get to enjoy my wedding truly.
William & Melissa
Ti Eu very nice guy to work together as team. extremely super professional by itself. appreciate and thank you for your kind help.
Shawn & Mun Keng
We came acrossed with DJ Chan Ti Eu at the wedding roadshow. we at first was abit curious ,we looking for something special and entertaining for our wedding so we booked his service! We are very pleased and satisfied, our guest enjoyed how he played our videos and music and also the e-guest book for all best wishes to us. Highly recommend if you want to be something different for your wedding.
Keith & Carolyn
Was recommended DJ Ti eu by our hotel's event manager, after looking at the reviews we decided to engage ti eu to be our wedding DJ.Ti eu was very accommodating with our request & gave us advice on montage/song choices.

He made sure the music played would entertain all guest at the wedding, which was very thoughtful. Everything ran smoothly on our big day and we're very grateful. Would definitely recommend
Sky & Woan Jen
Thank you Ti Eu for your amazing job on our wedding banquet AV! You have helped in lifting my husband and my worries on audio and visuals amongst other wedding matters that we need to handle. Ti Eu is very professional and is proactive in liaising with my venue event manager to ensure the details are aligned and had personally went to the wedding venue to conduct pre- checks before the actual event day.
Appreciate the march in songs, timings, planning and seamless transition of the audios and videos. The choice of background music definitely lighten the atmosphere.
The interactive app that enables our guests to post live well wishes with the option to upload photos made the luncheon interactive and fun.
Thank you again ~
Muqing & Amelia
Just had our wedding on Saturday. Will definitely recommend DJ Ti Eu! No regrets engaging him. Can totally rely on him for AV, march in songs and childhood photo slideshow. Music chosen were tailored to our guests profile. I enjoyed both my march in to the max because I was able to match in with my favourite songs being played. Interactive app for well wishes is another bonus.
Deyun & Vivienne
We just had our wedding in Dec 2020 and very glad that we hired DJ Ti Eu, one of the best choice ever! Especially during these Covid period, no live singing and signing of guest books are allowed, DJ Ti Eu is able to liven up the whole place with his music and he also provided an E-Guest book which is really memorable for us!
We received many pleasant feedbacks from our guests that DJ T is a versatile guy who plays a wide range of music that suits the taste of the audience well. Not only that, our banquet staff also feedback to us that their work get less boring and more fun since DJ Ti Eu is in the house playing all the funky and classic songs!
All of our guests loved the interactive live postings which we also enjoyed seeing the fun posts during the banquet.
You can be sure that all your audios and visuals are well taken care of during your wedding. We didn't had to do any sound testing or stress over any audio/visual system at all since DJ T is around.
Hassle-free, worry-free, DJ T is the man to look for in weddings! Thank you for being with us during our big day and liven up the atmosphere!
Raymond & Shuqing
Thank you Ti, Raymond and myself are so grateful that we chose to engage you as our DJ for our wedding last week.
The one month preparation period was so short and were we glad that we only had to choose our two march-in songs and the rest is done by you. With the MVs and our photos being slide through the screen throughout the dinner, it was definitely providing so much visual entertainment for our guests as well!
Also due to the very limited number of photographs that we could place in the montage, you have helped us put up more photos on the screen so that we can have most of our family and friends photos being displayed and let them feel being part of the occasion~ And we are happy to have the e-Guestbook, that lets us have a great memory of our guests and their messages for us on that day
Once again, thank you so much Ti, for being so so accommodating to us and not rushing us for the details that we could have given you earlier and yet prepared it so quickly for us over a weekend!
Cheers and stay safe!
Raymond & Shuqing
Jeremee & Jaslyn
He is totally recommended! Music is onpoint, the flow is great. I dont even need to bother anything about the AV because he is always there
The wishes posting is so fun that i can send it to my friends that i didnt manage to invite because of covid advisory. The door gift is great too! My guest love it so much!
Highly recommended for lazy brides like me that have no time to do any montage or digging for playlists,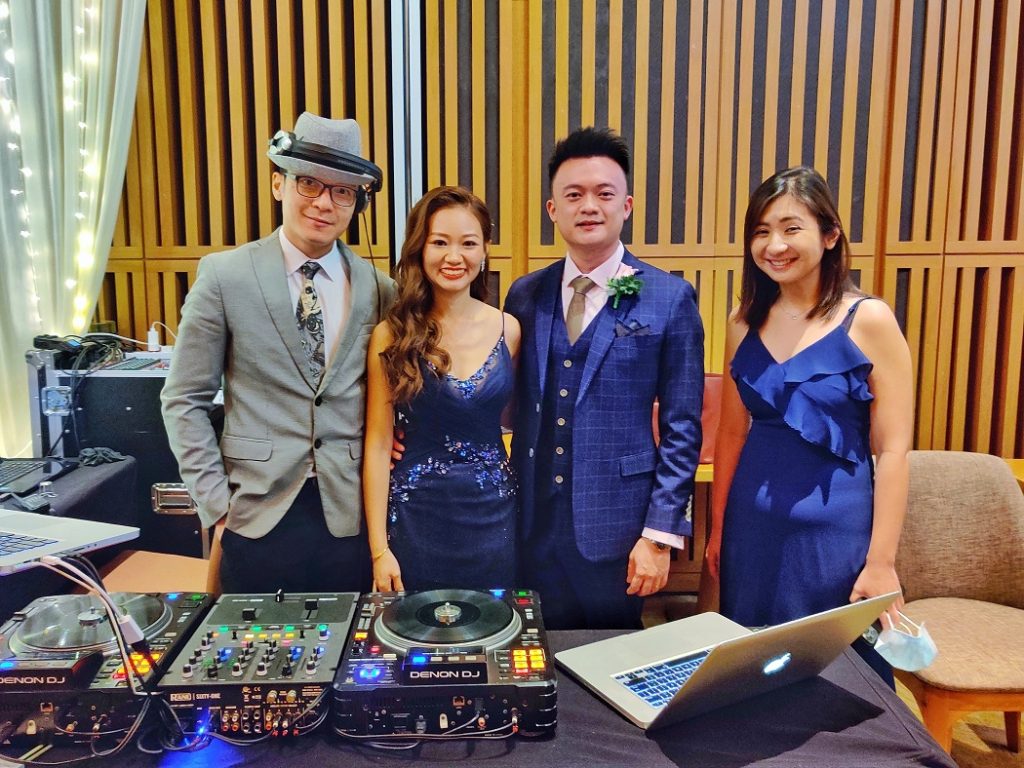 Wei Xiang & Wen Whui
Definitely, a good service to have for your wedding. To have a worry-free event, simply let DJ Funky T handle all the audio, visual effects. He will keep your guests entertained throughout the event with music and interactive message postings on the big screen. With his editing touch on your march in songs will surely leave a lasting impression to the couple and guests.
Jian Yao & Szemin
We were stressing over the music editing/photo montage when my husband came across his service on fb. Sooooooo glad we found him on fb cause we literally did nothing other than letting him know our 2 choices of March in songs.

Ti Eu was SUPER prompt in answering our queries and he made sure we have nothing to worry about. Our guests loves the wedding gift too!!

Thank you once again Ti Eu!!!!!!!!!!
Muqing & Amelia
Just had our wedding on Saturday. Will definitely recommend DJ Ti Eu! No regrets engaging him. Can totally rely on him for AV, march in songs and childhood photo slideshow. Music chosen were tailored to our guests profile. I enjoyed both my march in to the max because I was able to match in with my favourite songs being played. Interactive app for well wishes is another bonus.
Chee Siong & Joanne
Had our wedding in Dec. A great experience having DJ Funky T at our wedding. No need to worry about all the audio, visual and IT settings. Guests also can use his interactive app to enjoy and send all their blessing and wish. Thumbs up. A memorable experience having him at our wedding
Zhiyong & Tina
We came across Ti Eu's services during hotel wedding roadshows. Ti Eu helps with the IT stuff for the dinner / lunch itself. If you are lazy to do up a montage of your childhood photos or wedding photos. He is the right man for you! Same goes to the brides who are lazy to get someone to settle your IT arrangements.
Ti Eu has indeed been a great help to our dinner event. Playing musics and putting up wishes posted by guest. This service where guest can post their well wishes has indeed been helpful especially for Covid period where no reception is allowed.
Your guest can even post photos and upload it to the screen live! I guess the only flaw is probably where guest couldn't send in their song request virtually! But overall, all is good!
Kelly & Yiwei
Found Ti Eu's services during one of the wedding showcase and we were amazed at how he never missed a beat even while talking to us, that we decided to engage his services right away and I say that was one of the best decisions ever made for our wedding. He took one main worry off our load—AV, by making very good recommendations for our march in songs.
Ti Eu also reacted accordingly to the crowd/atmosphere during the banquet and insert songs that were suitable. We received many compliments from the ground after our wedding.
Thank you Ti Eu for being part of our important day.
Andy & Simin
Just 1 week before our wedding, we were having hard time deciding on a live band and we met DJ Ti at Concorde Hotel's wedding showcase. When DJ Ti introduce the service to us, we were attracted; it was very interactive for the guests and we didn't have to worry about AV part, coordination with hotel, video playbacks and the march-in timing.
During the wedding, DJ played songs that specially catered to kids, youngsters and elderly. We even had the kids dancing on the stage. And the most interesting part is the interactive app for people to post wishings and photos. We received lots of good feedbacks regards to his services and most importantly our guests had so much fun with it.
Thank you DJ Ti for making the night so awesome for us. We are grateful that we chose to enage your services.
Ee Yen & Jeslyn
my husband and I had our wedding back in June and has enlisted the help and expertise of Ti Eu – a choice we definitely do not regret and highly recommend.
He met up with us and my parents to discuss and listen to how we would like to mix up the different music styles to cater to our v different types of audiences (gold hits, pop, mandarin pop, etc). He was really on the ball and had liaised separately with our events manager at the hotel on how things would be that night as well as personally went down to ahead of time to perform the necessary prechecks.
He really helped eased our burden in terms of providing the night's entertainment, from music mix-up to also helping us play and run videos etc. Our guests all fedback to us that it was one of the best nights they had with the music and fun.
if you're looking for an awesome and professional DJ – Ti Eu's your man.
well done and thanks Ti Eu!! 👍🏻👍🏻👍🏻👍🏻
KH (Jeslyn's Dad)
What a fabulous night of fun last Sat at Ramada Ballroom! We were really glad we made the right decision with you Ti Eu as our DJ for the evening, lighting up our fun time with your music and visuals.
Your app was very interactive and it was live! All the feedback from our guests was positive. Both the young and the Merdeka generation heaped huge praises on your music selection, and you were able to adapt and time the music choices to the mood of the party. Very professional! Kudos to you.
As the father of the bride, I am also very proud I googled and found you
. As a meticulous person, I am also impressed with your efficiency and planning efforts leading up to the wedding. Many thanks and cheers.
KH
Darren & Ziqi
Our wedding ran really smoothly, and credits partly go to DJ Funky T! We did not have to worry about AV at any point of time, and we also did not have to trouble any of our bridal party to control the AV!
DJ Funky T did everything for us. After sending him our march in songs, he expertly picked the climax and essence of the music and cut it to make it suitable for the marching in.
The guests thoroughly enjoyed his variety of song remixes as well; suitable for young to old. Looking at the amount of posts from the guest book, I'm sure our guests enjoyed using the app to post their well wishes!
There are vendors, and there are vendors who are genuinely happy to be doing what they are doing. DJ Funky T is someone who is passionate about his craft, which showed on our wedding day, as his music helped to bring entertainment and enjoyment to our guests!
Thank you!!!
Yang & Jiaqi
DJ Funky T was one of the highlights of our wedding. Communication with him prior to the big day was quick, easy and professional even though we live in Australia. Although we weren't as prepared as we would've liked on the day, he was so helpful on and took a lot of our stress away.
He took care of all our AV and music requirements and communicated with our emcees to ensure the night went smoothly. His app got everyone involved, from the kids to the elders.
He played a great variety of music from old school Chinese classics to boyband favorites. By the end of the night, the dance floor was packed and even a few of the adults got their boogie on!
Thank you Ti Eu for helping us make our wedding banquet so memorable. Highly recommend!!!
Alvin & Candice
My husband and I was introduced to Ti Eu during Amara Wedding Showcase and we have not regretted engaging him for our wedding. Ti Eu is able to provide suggestions and recommend suitable march in songs for our consideration.
Thanks Ti Eu for helping us take care of the AV portion throughout the banquet dinner! Oh.. and we love the idea of having a digital guestbook too!
Thank you!(:
Thiet & Katherine
what can I say. DJ Funky T was amazing at our wedding! He made the night something to remember by. We were so happy with his choices of music and his recommendations of musics. DJ Funky T was easy to work with he took all the stress away and let us enjoy our night. We so glad to come across him on Google search haha.
Also we highly recommend other couples to use his app, it's cool and fun to see pictures and messages from your guests.
Terence & Melanie
Melanie and I chanced upon Ti Eu at a wedding showcase and we decided to engage him for 2 reasons:
1) His interactive app which allow guests to send photos along with well-wishes to be shown on the screen and
2) Him being our AV guy to control everything that has to do with audio-visual stuff on thay day, along with him playing some music videos.
Verdict: Did not regret this decision of ours at all! He made a trip down to our banquet hall the day before to do his own av testing and we really did not have to worry a single bit on our actual day as he has settled everything for us. Guests could even choose their own song and they had fun playing around with his app and now we have an online guest book full of funny wishes!
Thanks Ti Eu!
Alvin & Deanna
We're grateful to have DJ Ti serenade our guests during the wedding. It was such a pleasant experience working with him despite the many requirements and changes my hubby asked of him to do. lol He acceded to all his demands and graciously fulfilled his requests.
Further, my father loved the songs played, especially the classic ones like Frank Sinatra as it was relatable and brought back some good memories to him. I'm sure the other oldies felt the same. There was even this one guest who requested a track list of his songs just so he can play it in his car! Well, that says a lot!
Best of all is that he has this interactive app where guests can upload pictures and provide greetings to the couple which was a good complimentary to the package. All I can say is he did a good job! He knows what he is doing and what his client wants. Thanks a lot Ti on behalf of my hubby and myself included.
Ying Hong & Yue Ying
After searching "wedding DJ " in Google , n I came across Ti Eu website , I knew that I have to change my initial plan from a live band and engaged his service.
My Husband and I were happy of the choice we made , Ti Eu was way far beyond Awesome ! He was professional, he creates the mood on our wedding . And we do not have to worry about the whole Music n visual part which lighten a lot of our worries.
We also love the apps design by himself for our guest to post message to us and that made our wedding a lot more interactive.
Most importantly ,our guests enjoyed themselves very much n most of our friends are singing praises for Ti Eu and have already ask me about his service
😉
You did a great job Ti Eu, of giving Ying Hong and I a special n memorable once in a lifetime moment! You are truly amazing:)
Wilson & Peiling
Music largely dictates the tone for any event, so for our wedding we decided to be experimental and opt for Ti Eu's DJ services as opposed to a live band. It was a great decision.
For a start, it is worth mentioning that Ti Eu has all the technical know-how for AV so it was a welcomed benefit to entrust the AV responsibilities for the banquet (e.g., march in songs) to him…instead of arrowing a poor 'brother' to get stressed out over it!
Plus he is actually a bona fide techie so his live-dedication app worked flawlessly and doubled up as a digital guestbook. Definitely a keeper!
For the main substance of providing music entertainment, Ti Eu delivers as well. From the start to the end of the banquet, Ti Eu hits the right notes with a good mix of MTVs for young and old. Our instruction to him was simple – "keep the energy levels high" – and kinda just left him to do his thing.
As I observed, it was nice seeing our elderly relatives sway to oldies (they were young once too) and kids tickled by the custom-cartoon MTV played by Ti Eu. I think our guests were pleasantly surprised.
Overall, my wife and I desired a lively, celebratory atmosphere for our wedding which was realised. Kudos to Ti Eu for his part in orchestrating the perfect ambience for our celebrations.
Adrian & Candice
We are proud to have DJ Funky T in the house on my wedding day-13Jan18. We are also very happy engaging their service to host for the night. Be it the music or the emcee, they did an awesome job. All of our guests had complimented about the emcee is fun, handsome, he know the audience, etc.
And for the music is awesome. Our parent do enjoy the music alot and the music video was great too. The best DJ spin.. the best in SINGAPORE… on our wedding…!! We had the best time, and were so happy you were there. Kudos to Jackie n Ti Eu! Thank you DJ Funky T!
Chee Boon & Gerrayn
Hi Ti Eu, thank you so much for the lovely evening!
Chee Boon and I made the right choice to engage your services. Having you around, we do not need to worry about who is going to play our march in songs , our montages and most importantly with the cool app(taking pic with wishes that enable to show live on the screens)that really helps to entertain our guest throughout banquet.
Honestly, It was so cool to have a DJ for our wedding banquet!!
Kian Chai & Sky
We are very happy to have engaged Ti Eu for our wedding DJ. He was able to accommodate to our requests very quickly. He is very professional and played a good mix of music that clicked with the audience. The edited music videos with the photos were very engaging as well.
Thank you, Ti Eu, for making the banquet more lively. We highly recommend using this service for events. Cheers!
Honestly, It was so cool to have a DJ for our wedding banquet!!
Ryan & Eunice
Thanks DJ Funky T for the amazing music throughout our wedding banquet! My guests and i were fully entertained and we had so much fun! Thank you for making our wedding dinner such an unforgetable and enjoyable evening!
P.S to all couples getting married. If you're looking for something different for your last night of "singlehood", this is DA MAN!
Zhiwei & Cindy
My (now) husband, Zhiwei and I met Ti Eu at our hotel's wedding roadshow sometime last year and were intrigued by his wedding DJ services. Ti Eu helped us put together a remix for our wedding march-in song, provided advice for our photo slideshow and we knew he had everything under control at all times.
Nobody puts together such a fun show like Ti Eu. Thank you once again, for going beyond and making our wedding so special!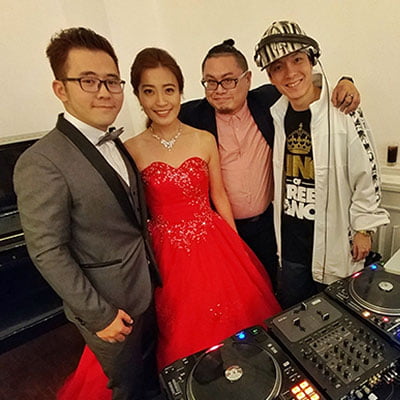 Charles & Elaine
My Hubby, Charles, and I are really thankful to meet DJ Ti Eu at Fullerton's wedding showcase last year. It was like an 'attracted at first sight' when he introduced his wedding services to us. My Hubby immediately wanted to engage him for our wedding and it was one of the best decision ever. Preparation for wedding can be quite hectic no matter how simple we wished for our wedding to be because on actual day, there is no time for both of us to ensure that everything runs smoothly, especially for the AV part – which is also one of the most crucial part of a wedding.
Ti Eu is really very experience in this aspect and he ensures that everything will be great during the actual day. He took the initiative to contact our wedding coordinator to check on the AV criterial. The only thing we need to provide him was our childhood montage, photographs and march-in songs. He then played all the items for us on actual day including his own app where our guests were able to take pictures of themselves and upload it with congratulatory wishes for us. All in all, we are so glad to meet this humble DJ whom we hope had a great time spinning at our wedding as much as our guests enjoyed.
Thank you for everything DJ Ti Eu, we would love to have a chance to engage your service again in future.
Jobi & Xue Ting
Our wedding was initially planned to be very simple as we do not have any morning highlights nor photo montage to show to our guests. Then my husband found Ti's website and thinking this might be a great idea to have him during our event. All Ti told us is to relax and let him takes over the entire flow, that's it. And indeed he is great!! Many guests have asked us about him and they also think that this is something different compared to other weddings.
Everyone have enjoyed the photo slide show as well as the music he have chosen based on different age groups & mood. The app is easy to use and everyone gets to do something by posting wishes & messages to us.
Ti, Jobi & I really want to thank you for your great help & we will never forget those moments we had~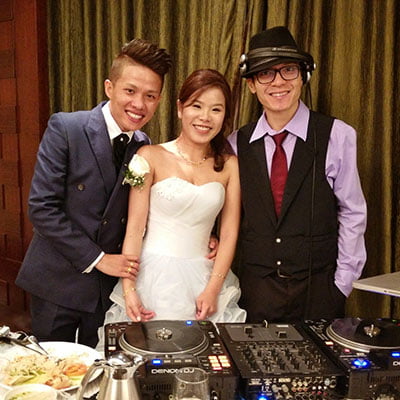 Chunfa & Rebecca
My husband and I were glad that we engaged DJ T for our wedding dinner. It kept our entertained and they enjoyed it very much! Thanks DJ T. The songs were great and the kids and adults loved it. They laughed, dance and sang and we all had fun!
Thanks DJ T for bringing joy and fun on our Big Day!
Brandon & Susanny
It was a great choice engaging Ti Eu as our wedding dj which is very unique and entertaining!
We left the selection of songs to him and everyone enjoyed the songs and videos.. The collation of photo dedication from the audience is a very sweet thought..
Ti Eu is really nice and easy to get along with.. Overall I am very glad that I have engaged Ti Eu and will not hesitate to recommend to anyone
Dickson & Yan Ying
From the moment we first saw Ti Eu at Hotel Jen's wedding roadshow, we knew that we need to have him at our wedding! He indeed took a whole load of burden off our shoulders as we did not have to worry about the whole music and visual component for our wedding at all. Detailed explanation & great follow-up from the moment we engaged his service, till the actual day of our wedding.
Ti Eu was very well prepared and everything went on very smoothly during the entire wedding. All of our guests enjoyed themselves with the great choice of songs chosen by Ti Eu.
We received our digital guestbook the very next morning after our wedding day. SUPER EFFICIENT! Thank you so much Ti Eu for spinning at our wedding!
Cheers,
Dickson&YanYing
#dnyyweds080617
♡♡♡
John & Karen
We were planning to get a live band for the wedding – one of the best decisions I've ever made is getting the services of Ti Eu! He was so professional and his app made a difference on the event! He was so patient in our requests and he had to endure a controlling bride who gave him a list of more than 100 songs! He made our wedding so memorable, fun and our guests enjoyed every song he played!!
From planning to execution – he was truly amazing!!
Thank you once again Ti Eu for making our wedding a dream come true!! Keep in touch and hope to see you in other friends' weddings
Garrett & Ginnie
Thanks Funky DJ Ti for the wonderful selection of songs for Our big day. Thanks for wonderful coordination with our emcees and making it seems so easy for us. We received very good feedback from our guests on your song selections (from young to the elders) and your app is amazing. It's so nice to see all the well wishes live from our loved ones.
I would highly recommend couples to engage your professional service as you really take a huge burden off the chest among the thousand and one things a couple need to prepare for their wedding.
Jon & Teresa
This guy.. Seriously.. One-Stop service for all your audio/video needs. When i met him for the first meetup pre-wedding, he was very specific with what he wanted to know and he also was very thorough.
Couple DJ funky T with MC ZY and u get ZERO headaches through the wedding. Thank god for the both of you. You've made my life alot easier.
Cheers
Ken & Linda
From Linda:
To my Talented Wedding DJ, Chan Ti Eu aka DJ Funky T!! I'm so glad to have engaged you as my main music coordinator to be in charge of all Audio and video aspects of the wedding, providing great music and especially entertainment to my guests!
Love your music video mixing, spinning and your Creative interactive app for posting of best wishes from my guests. Everyone truly enjoyed themselves through your music and I'm so so SO happy that I have you as my DJ for my After party! You can't imagine my joys when I saw everyone dancing and prancing around their tables and dance floor partying with their drinks on hand and singing along with your spinning! The whole atmosphere and ambience is just so magical, I thought we were in a club with those disco lights.
Definitely recommending you to all my friends who are getting married or considering adding some music entertainment for their events!
From Ken:
DJ Funky T's performance was awesome and with him at our wedding banquet, it adds a special feel & fun which are so unique & different from normal wedding in Singapore. Totally went beyond me n my wife expectations!
Guests at my wedding love it when we start our after party, turning W Hotel into a club instantly! They all sing praises and compliments of him, and we were so happy to know so! We also loved the special app he created himself for our guests to post messages to us, and that made our wedding even more special!
Thank you so much Ti Eu! Highly recommended if you want something special and fun in your special events! You can definitely trust the works of this guy, thumbs up for You, Ti Eu!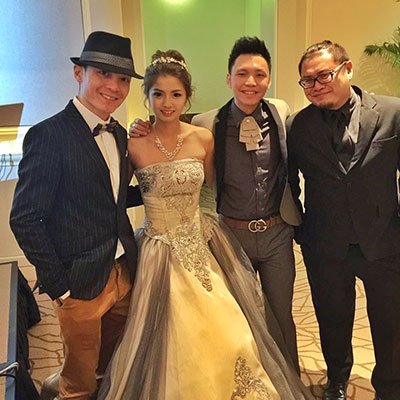 Alvin & Cheryl
From Cheryl:
My hubby and I recently held our wedding and had engaged Ti Eu for his DJ services. All I can say was that he will try to make the wedding to be the way how you want it to be (or better).. why I said that was because we had given our choice of song for our March in. During the day of our wedding, we had a meeting with the banquet managers and staffs for a short briefing. We had agreed to start marching in when the vocals start.
Little did we realise that the song we chose had a long musical start and when the vocals start, it will take a fair bit of time (which will make the whole thing weird when everybody was anticipating your March in).. we immediately sought help from Ti Eu. He quickly did the magic in time and managed to make the song fit nicely for marching in..
Thank you Ti Eu for the last minute help right before the wedding dinner commenced! You have been great and my guest were really enjoying the music when you turn the place into a club after the dinner!
From Alvin:
Im really glad my wife and I had chosen DJ Funky T during the wedding showcase in Fullerton Hotel! Good thing was that we didn't have to find somebody to be the music coordinator or somebody to control the laptop during the playing of videos. We could just leave the hassle to the DJ to shoulder our burdens! hahaha!
Anw, thank you to DJ Funky T once again for being our DJ and making sure that everything was well taken care of.. Appreciate your service and all the best to you! It is indeed a unique experience.. Cheers!
Melvin & Liana
From Liana:
If I had to choose one word to describe Ti Eu, it would have to be awesomtastic !
I have always dreaded that our wedding would turn into a boring routined dinner where guests show up because they have to and then leave before the dessert, but that wasn't the case ! He single handedly turned our wedding into a unique experience for us and our guests and I reckon that is why all of our guests stayed till the very end !
Months before the wedding, I was stressing out, as we all do. One of my biggest fear, apart from the guest list, was actually the music and the av segment. I dare not imagine how our wedding would have turned out without Ti Eu ! From the march-in songs to our first dance, along with the background music for dinner, it was all perfect ! Ti Eu definitely played a huge part for our perfect fairly tale wedding.
If there's one thing he did for us, it was to lift one huge burden off of us.
From Melvin:
Hello Dj FunkyT! We had the honor to have him DJ our wedding and the guests loved every minute of it. He will take care of all the audio and video aspects of the wedding, but that's not all, he also does his thing, specially customized videos and musics to suit all ages in the venue. Even to the extend of songs from different dialects and eras.
He was very attentive and you can see that passion of music in him. He's a very easy going person as well and does such a wonderful job that all we heard from our guests were nothing but compliments. He certainly knows how to set the atmosphere right in any event.
Last but not least, he even had a system that allows song dedications as well as messages from love ones to you that you will be able to keep for future reminiscing of that special day in your life. If you want something special for your wedding, this is the guy to go to! You won't regret it, i'm sure!
From Martina (Liana's mom):
When I got married, I had a Peranakan band play at our wedding. Trouble is, that was yonks ago and I didn't have any contacts now!
So when my daughter was planning her wedding, I wanted her to have a band as well. Tried a lot of places, but not going anywhere. One day while trawling the net, I came across Ti Eu's name and had read good reviews about him. So I asked Liana to contact him as I was still in London.
She spoke to him and in the ensuing weeks, found that he was very good and he acceded to her requests for songs and we even had Peranakan music at the wedding!
So, to sum up, Ti Eu did a fantastic job that night and everyone I spoke to was pleased with his selection of songs and AV.
Thank you once again for the excellent service you provided at Melvin and Liana's wedding!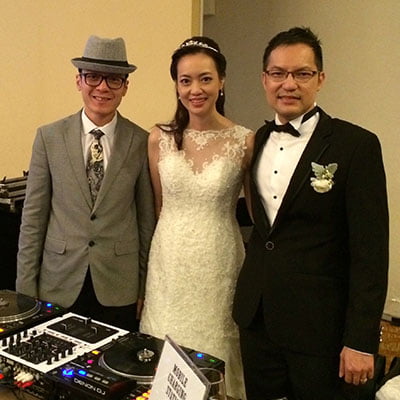 Steve & Zena
DJ Funky T was always friendly and responsive throughout the lead up to our wedding. He showed great initiative by going down on his own accord (without us asking) to our venue to do a sound check more than a month before our wedding.
He was also very helpful and accommodating towards both my husband and myself. I needed a song to be edited to fit the length of my photo montage and he helped me edit the song within the next day. My husband had planned a surprise video to be screened during our wedding dinner and DJ Funky T was involved (without my knowledge) in the planning and coordination of when to screen the video. Even though the format was changed, he adapted quickly and things still turned out smoothly. He also gave great input in terms of the format of the video and was generally always ready to offer suggestions or help.
Overall our experience with him was nothing, but positive and he was a big part of what made our wedding dinner memorable. We have no hesitation in recommending his services to any couple! Thanks Ti Eu!!
Richard & Shanice
From Shanice:
Thanks SG Wedding DJ for bringing so much fun and musics to our guests on our wedding day! My hubby, Richard and I were busy entertaining the 'boatload' of guests on all 3 different decks and we could hardly sit down and enjoy these musics.
However, the following days my family and friends commented about their wonderful experience with the nice musics and the kids are dancing along with the pop musics happily too! And we definitely love the DJ Funky T compilations of all well wishes from our guests, indeed a memorable evening for a lifetime!
From Richard:
We had our wedding on 3rd Sept 2016 at the Stewords Riverboat.
With 3 levels of different crowd, we wanted someone whom could engage the guests while we were busy catching up with relatives & friends after the Holy Matrimony Ceremony. Plans were made and coordinated with the Riverboat to have his MTV music piped through Level 1 and 2 to entertain the guests.
As predicted, all guests were greatly entertained by his good selection of MTV and we certainly know that we had made the right choice engaging DJ Funky T in make the evening a lively and fun wedding event for our guests !
Joseph & Tavia
From Tavia:
5 stars for DJ funky T! Once again, I would like to take this opportunity to thank DJ funky T for this excellent service that he provided us throughout the wedding in Hilton.
I have to admit that DJ funky is very helpful and resourceful. He made an effort to call up and arrange an appointment himself with our operational manager to ensure all audio system are working well before our wedding. When we ran out of march-in songs to choose, he recommended great March in songs to us. His music selection is able to cater to many different groups, from young to the older folk during the wedding dinner. Not only this, his innovation of the apps for guests to post pictures kept our guests engage throughout the dinner.
Lastly, we appreciate and love the way he closed off the deal by presenting us an engraved thumbdrive and media files link where it contains all the well wishes and wedding videos. A big thanks to you, DJ funky T!
From Joseph:
Thanks DJ funky for spinning at our wedding. Our guests were impressed with your ironman attire. It was really one of a kind! The adults and kids love it! Totally rocks! Excellent remixes especially the "Unbelievable" song. Will definitely recommend to all my singles friends who are getting married. Keep up the good work! Cheers !!
Jasper & Wendy
From Wendy:
Thanks to Dj funky T for a whale of fun time at our wedding! Everyone enjoys the music he spins and many of my friends and relatives commented that this is rather unique especially on His mtv mixing and the wedding app whereby they can all post their pics and their words of blessings for my hubby and me!
Best part is I had my favourite songs for both my March in! Thanks for customising the songs for me! Overall, kudos for the good job well done!!!!!
From Jasper:
DJ Funky T livened up our wedding with his unique music mix. My guest are totally impress with his spin and they start dancing.
Thank you very much for making our wedding so memorable one!
David & Pamela
Big thanks to DJ Funky T for his help at my wedding on the 30th March! I cannot overstate how valuable he was. I was planning the SG wedding from overseas and I was only back in SG 3 days before the wedding, so it was extremely stressful for me.
DJ Funky T managed to get the music selection just right and coordinated everything perfectly, even though we only met once before the wedding! The professionalism he showed before the wedding in communicating with the (many) other vendors we have for the music and video coordination, as well as his professionalism on the night itself, was unparalleled.
Thank you so much for making it that much easier to plan my wedding from overseas!
Stanley & Huimin
Everyone reads review to decide what are best for them. It is not an easy task, especially when there are a lot of subjective thoughts and the numerous available choices out there. We went through the same ordeal.
When my girlfriend (wife, today), told me to hire a DJ/Emcee (Ti Eu and ZY) for our wedding, I was not convinced. My mind was racing with doubtful thoughts. Who wants a night club theme at a wedding. Who pay attention to music at a wedding, when the events is all about the couple. There are many more unanswered questions.
We held our wedding on the 8th July 2016. Since then I have not put any thoughts for Ti Eu/ZY performance. I felt it is an unbiased review if it came from us. Why now? I have spent a couple of days going around thanking my family and friends for just being there for us. To my surprised, we were told a very different story. In simple words, the event was a success with very lively music and good food. Make no mistake, food and drinks are not the only thing you must worry. Music is the other.
I myself was surprised, because throughout the night, we were very busy going through the motion of changing our gowns and never had paid so much attention to the actual event.
The day I met Ti EU, my first impression was a very friendly and approachable guy. Or first agenda was to test his DJ ability. He started to showcase and explain what he does best and very quickly he was projecting and playing back his mixing immediately. He was very helpful by participating in the flow of the event. He has also recommended an Emcee, by the name "ZY", we took his offer. I always believe in chemistry. Ti Eu and ZY are like peas and carrot. They are able to hit the right note and they kept the audiences entertained. One very interesting service provided by Ti Eu is he uses an Interactive App using smartphone to engage our guests to sent us well wishes. Superb service!!!
We wanted a custom song list for our wedding. Ti Eu was happy to fulfil our requests. All songs list are meticulously screened by Ti Eu to make sure it is suitable for weddings. We were impressed with his passion for excellence.
In conclusion, we are a very satisfied customer. We wish to thank them for doing what they did best and wish them all the best for future newly wed couples.
My ratings for Ti Eu and ZY
1. Performance: 5 Stars
2. Communication: 5 Stars
3. Friendly: 5 Stars
Thank you
Stanley and HuiMin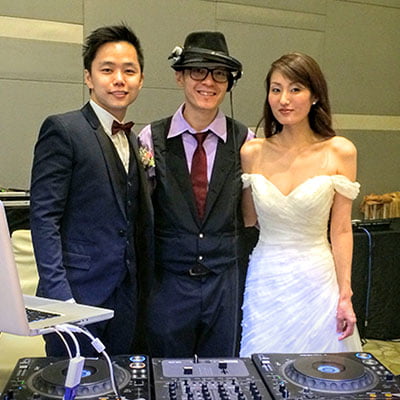 Nigel & Mathilde
From Nigel's mom (who engaged me):
We are Glad that we make a right decision to engage Funky DJ for my son's wedding, so that we can enjoy & party without worrying on the IT/music/lighting, DJ will co-ordinate with hotel staffs.
Funky DJ is very helpful, supportive and knowledgable with wide range of music. He create a great wedding embience and he has a great software that guests can send their well wishes to the bride & groom and it will be shown on the screen.
I strongly recommend funky DJ.
Thank you funky DJ
Leslie
From Nigel:
Ti Eu did a super job at my wedding in Jul 2016! He had excellent awareness of the events happening at the wedding and superb with assisting with the program coordination!
From Mathilde:Thank you for being part of our wedding. You did an amazing job and guests enjoyed dancing at the end of the dinner!
We wish you all the best and I am sure plenty of weddings await you in Singapore!
From Mathilde (followup):Thank you again! Our friends had a lot of fun with your app. It was a great way to keep things entertaining.
It is definitely something you should advertise in priority when you pitch clients to hire your services! It is fun for the guests and it is fun for the newly weds since they get the pics in the end!
Great idea and we will defo recommend you if friends ask us where to find a good DJ in Singapore!
Sean & Ashley
5/5.
Had an awesome wedding Oct 15, DJ Funky T spinning the tunes for the guests on the dance floor, fantastic musical taste to suit the occasion. Very approachable, detail orientated and helped make the night an awesome one. If you're looking for a less traditional Singapore wedding, he can definitely bring the party atmosphere!
5/5 would recommend highly.
Kelvin & Vanessa
Thank you soo much for your wonderful music last night. My guest totally enjoyed themselves a lot! Very responsible and friendly guy for give us very useful tips and i highly recommended to anyone…please use him if not its your lost, my gain. A JOB WELL DONE!! THANK YOU DJ FUNKY T
Clarence & Agnes
Great job to DJ Funky T .
Just finished my wedding ceremony at holiday inn orchard and received many positive feedbacks from the guests regarding the music selection. The equipment used at our event was also very sophisticated and professional . Great synergy between my Emcees and the DJ.
Thanks for livening up my event and keep up the good work .
Simon & Paulina
Professional, good wedding advice, good music, efficient, great slide show/digital guestbook.
Overall a unique service and great addition to our wedding! Thanks DJ Funky T!
Alex & Lynn
Most friendly and humble DJ I've ever met. Of course with excellent professional skills. Thanks to you bro my wedding is successfully held.
Vance & Aria
Got DJ Funky T to spin during my wedding in July and I must say, just like my marriage, absolutely no regrets!
Personally we feel that wedding singers are a bit a thing of the past. So thanks for your special set of MTV mixing, which was very cool. Your innovation of having your own cool iPhone app for guests to post pics kept my guests very engaged. Many feedback to us was this was a very fun and special wedding with interest method of entertainment.
Thanks for keep the older folks in mind and also playing music that they enjoy.
Lastly, Aria and I would like to thank you for your expert input on the wedding march-in songs and your efforts to customise as much as possible to tell Our Story.
Glenn & Alexa
DJ Funky T livened up our wedding with his unique brand of live music video mixing. My wife and I presented him with our desired playlists and he dutifully ensured good quality videos of the songs we requested were obtained.
Feedback from guests was positive with a high number of attendees who presented their pictures and well wishes to us using DJ Funky T's mobile application. We were delighted to read humorous notes our friends and family made which was projected on screen.
Overall, we are greatly satisfied with the service provided! Thanks for making our wedding dinner that much more special and memorable.
Howe & Chuanni
Thank you, DJ Funky T, for a fabulous night. You took the time to understand us and our musical preferences and as a result the music at our wedding dinner party perfectly reflected our personalities and the mood we wanted to create. Our guests absolutely loved the music – there was something for everyone, and the after party was awesome.
Thank you for the music, but also for the great conversations. We are so pleased to have had you spin at our wedding, and even more pleased we have made a new friend.
With love, Howe and Chuanni
Bohan & Melissa
Bohan and I were very grateful to DJ Funky T for the awesome service that he had provided during our wedding at Gardens by the Bay. Most importantly, his music was able to cater to many different groups during the dinner – from the young to the old (even the older folks were pleasantly surprised with his music!).
Although we were always rushing in and out of the dinner banquet, we could catch most of our guests grooving to the music whenever we took a look around the hall. We were really delighted that our guests enjoyed his music as much as we do!
Thank you DJ Funky T for creating such a memorable wedding experience for us!
Ginny & Kenneth
Kenneth and I are very glad that we went with DJ Funky T as our wedding entertainment instead of a live band. Despite us not being able to have a dance floor, Ti Eu definitely put the groove in our wedding and kept up the fantastic energy throughout the lunch via a fantastic playlist covering many genres of songs.
Initially we thought that having a DJ might be too 'loud' for a wedding lunch, but instead it provided us with much more versatility to make our wedding personal and memorable. DJ Funky T also took the effort to meet up with us before the wedding to understand our tastes and preferences.
As a result, the younger guests were captivated by his music videos while the older folks were pleasantly surprised to hear evergreen chinese songs. Our friends also had fun posting photos and well-wishes via the DJ Funky T app!
The wedding was truly our own and thanks for making it happen!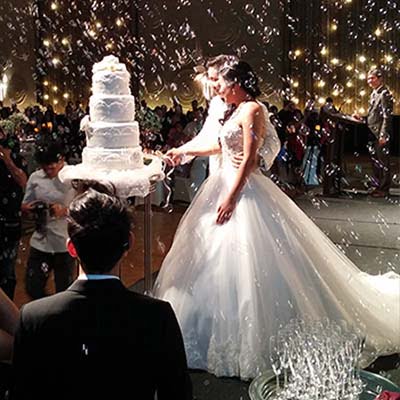 Michelle & Ryan
We knew we wanted a dance segment and wanted our wedding to be a massive party without anyone being bored to death.
Having Dj Funky T was one of the best decisions we made for the wedding not only did u help us with the music through out the dinner reception, you even helped us with our first dance, the montage…and everything else that was not just music related but sound oriented!
He even has a cool mobile app which allows guests to upload messages while he plays music videos!
With my many questions and uncertainties you made it all possible and the day was worry free as everyone was just so busy having a ball! Not only did you play awesome music you managed to capture pretty pictures!
We did not just get a DJ we made a new friend too!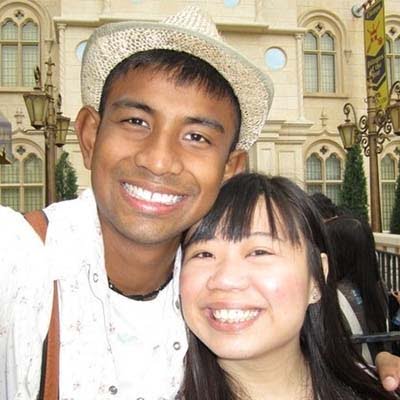 Hensa & Ee Na
Thank you DJ Funky T for bringing life into our wedding! It was love at first sight after seeing your work at the wedding show. We just couldn't miss not having you at our wedding.
The after-party was the highlight for us and our guests had left many compliments about it!
You were just so great! We love just how the video mixing and songs go so well together – so much so that you've got even the young ones and our parents on the dance floor! Awesomeness!
Fay & Melvin
Thank you for turning our wedding into an awesome dance party. The guests hit the dance floor from the moment you started spinning and did not leave until the night finished.
Thank you for being so flexible to handle all the requests from our guests and for letting us bring in some of our own music. The party was so personalized to our taste that we felt like we were back at home and that is the best wedding present we could ask for.
We had a lot of fun, the guests had a lot of fun and we hope you did too!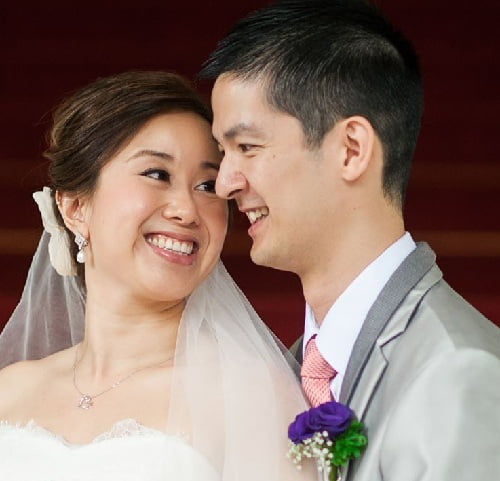 Phelicia & Tat
I would like to thank you for the good service you have provided at my wedding event on the 4th Oct 2014. Everyone enjoyed the music and I have received a lot of good feedback from the guests.
The music genres played catered to the little young ones to the old folks who were young at heart. The most memorable moments for the guests aside from the performances was the after party. It was just a pity that the hotel had to cut it short.
Everyone on the dance floor had a great time boogie-Ing to your mixes. I will definitely recommend you to anyone who have upcoming future events/weddings.
Liz & Darrell
Having DJ Funky T was one of the best decisions of our wedding dinner!
Working with DJ Funky T was a breeze – he was very friendly, responsible and he had all the logistics covered.
The wedding guests and us had SO MUCH FUN on the dance floor after dinner!
After the wedding, I had so much rave reviews from the wedding guests about DJ Funky T!
Female Brides Magazine
April 2015
Fay & Melvin
Special Thanks To:
DJ Funky T who let us bring a part of our cultures to the party.
He made it feel like home even though we were so far away.